Want a great conversation piece in your garden that will appeal to male and female alike? Try up cycling an old tire into an unexpected piece of art that is perfect in your back yard garden retreat. This eco-friendly conversation starter will add colour and charm to any outdoor space!
A balanced mix of Perennials and Annuals combine to make a unique "show stopper" design.
This Raised Tire Planter adds a quirky conversation piece to any garden for under $20
Step 1: Trim vintage table legs to a suitable height which will match the size of your tire
Step 2: Cut a plywood circle for a base and fasten table legs with screws.
Step 3: Securely fasten junk tire to base with long screws.
Step 4 : Add soil. Choose a container mix suitable for Bedding Plants. Ensure that you fill the tire completely.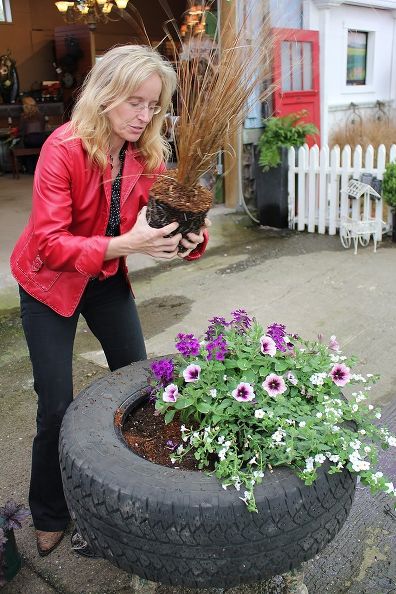 Step 5: Plant complimentary Perennials and Annuals for maximum texture and colour.
Step 6: Fill in with soil between the newly transplanted pots and water in generously.
To see more: thegreenhousediaries