Increase the beauty of your lawn by adding garden edging that works well with the style and feel of your home. Whether you opt for a modern or rustic look, garden edging will visually separate your grass from your garden beds and make your landscaping look intentional and well-designed. Here are 10 garden edging ideas, including both the conventional and the innovative!
Scrap Wood Garden Edging

If you've got scrap wood laying around in the garage, chop them up and put them to good use by making this scrap wood garden edging.
It's a pretty easy DIY for a fun and casual look.
 Gabion Wall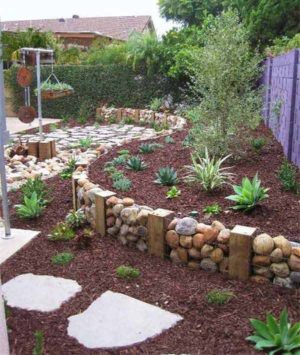 I love this look, especially for raised beds. You can fill the wall with just about any size of rocks depending on what is available in your area.
Steel Edging
Steel edging is thin and strong, giving your garden beds a modern look with minimal maintenance.
It's especially gorgeous when used with square garden beds.
Rock Edging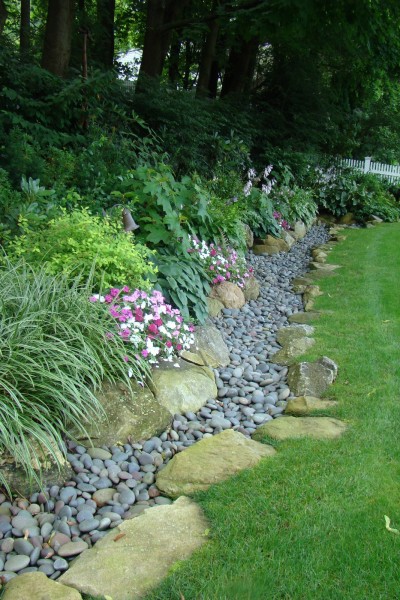 Rocks are often used as garden edging, but you can take it to the next level by using two different kinds and sizes of rocks.
This is a great example of how two different types of rocks combine to create a beautiful border.
Wood Block Edging
Cut wood blocks into two sizes and arrange them to create a unique garden edging design.
This landscape edging example also includes another garden edging idea: cut branches that are sunk into the ground. So pretty.
Raised Beds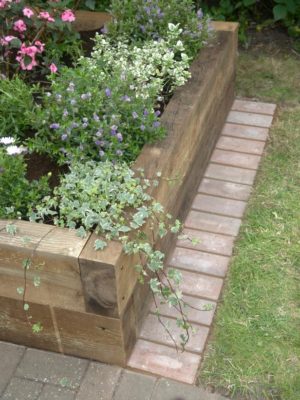 Creating a raised garden bed is a great way to create a beautiful garden area and clear edging at the same time.
Wine Bottle Garden Border
Put your collection of empty wine bottles to good use by edging your garden beds with them.
This can be a really pretty garden edging option, especially if you have wine bottles in different colors.
Recycled Water Hoses
Weave colorful water hoses around metal poles that are dug into the ground for an unique way to edge your garden beds.
Arrange your water hoses by color to create a surprisingly beautiful ombre effect.
 Wheels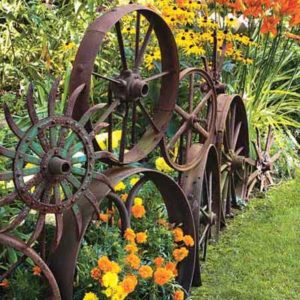 It may take some time to gather old wheels from thrift stores or flea markets, but wired together they make absolutely stunning edging to your flower bed.
Painted Cinder Blocks
Line your garden beds with cinder blocks and make them pretty by painting them in your favorite color.
Plant flowers or herbs inside the cinder blocks to create mini raised garden beds!