the best ways we have found on the web to zap those mosquitos… or just plain ol' make 'em disappear!
Disclaimer : We have not tried out all of these, so I can't guarantee their effectiveness. Would love for you to share in comments whether they work for you, or if you know some other ideas that we haven't mentioned!
Your first option is to plant mosquito repellant plants in your garden. I think this works great if you can plant enough in the garden in your immediate area… One plant is not gonna cover it. A better option might be to plant them into containers that you can move and group around a patio or table area when needed. Here are the top three most popular repellent plants that are pretty, too!
Lemongrass
Lemongrass is a tender tropical grass that will not survive the winter in areas colder than zone 8, so is best used in containers. It is the most popular and, reportedly, effective mosquito repelling plant!
Sage
Sage is great as a garden or potted plant, and comes in ornamental varieties that are purple and golden as well. (I grow them both in my garden!) Also great tossed onto a BBQ or fire pit to add some repellent properties to the air. Learn how to grow sage.
Lavender
I also grow a lot of lavender, and I love the smell. I actually go out and pick a lavender stem when I wander my garden just to enjoy the stress relieving scent. Also a great mosquito and fly repellent. Learn how to grow lavender.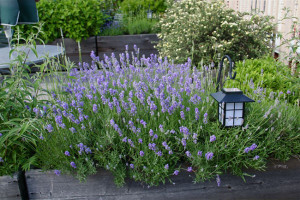 A couple others worth a quick mention? Basil, catnip, rosemary and mint.
Ok, so you've planted a few great plants and are ready to move on to more.
Start with this DIY all natural bug spray by Tasha from 'Designer Trapped'… She even breaks down why this is a better value than store bought bug sprays, not to mention… did we mention? All natural!
Charlene at 'My Frugal Adventures' has another recipe, this one is a homemade mosquito repellent with just three ingredients!
From Stephanie at 'Garden Therapy', learn how to make citronella candles with her budget friendly tutorial… These would be great to combine with the mosquito repellent plants! She has a great garden projects book out as well, check it out while you are there!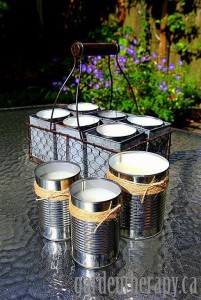 Make these pretty mason jar citronella candles from 'Marty's Musings' for a charming way to repel mosquitos. She even tells you where to get the liquid citronella fuel.
From Melissa Caughey at 'HGTV Gardens', make these herbal insect repelling bundlesthat you can use in a fire pit or BBQ to keep bugs away. You just let them smolder at the edge of any fire source, and voila! No more bugs, and the air smells amazing!