With every new growing season comes the need for outdoor planters… and we've rounded up some unique planter tutorials for every gardener, whether you want a traditional window box, or an up-cycled art piece. Most of these outdoor planter projects have complete instructions, so check them out, pick one or two, and plan some garden projects for the weekend! Our featured project, above, comes to us from Popular Mechanics. Learn how to make this
simple DIY wood planter
with this great tutorial and lots of step by step photos.
Lowes has a nice contemporary indoor outdoor planter project with step by step photos and a video.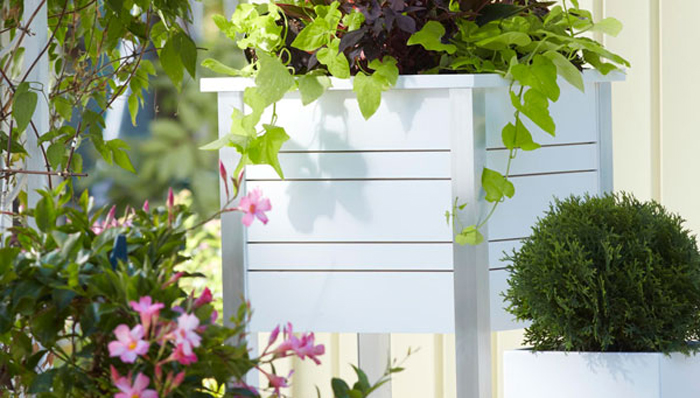 This wooden planter box by Family Handyman can be built in less than an hour with their tutorial. I love this because you can easily change out plants, and even combine plants with different watering needs because they are in separate pots.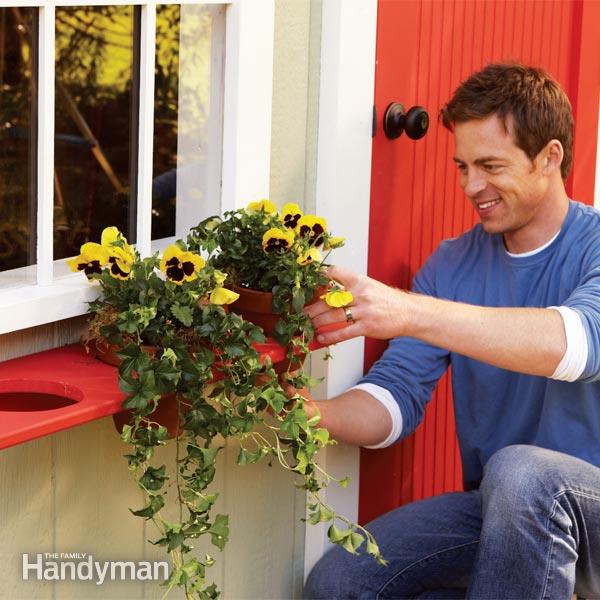 Tracie over at Cleverly Inspired wanted some large planters that were similar to some that are available at Restoration Hardware.  She came up with these wonderful planters.See how she did it.
Want to make a large DIY planter on wheels? Then head over to Four Generations, One Roof, and find out how Jessica and her dad made this one! They have excellent step by step photos in their tutorial. This is great for small garden spaces… You can create an entire garden in this one planter! Love this!
This is a clever idea we got from Christie on Flickr… Using recycled cans as planters, and drill holes to attach with zip ties! (Also for drainage). Obviously you can cut off the excess zip tie after they are hung, they are left to illustrate the project. Love this! What other kinds of containers could you up cycle?
These low cost drum planters have downloadable instructions, and are made with recycled drums and recycled wood. What a really cool idea for little cash! You could use this idea for a lot of recycled containers!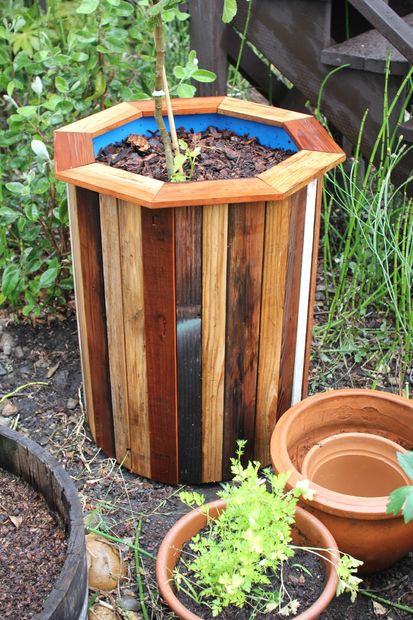 This Coppice Vertical Planter is sold on a UK website but we think it would be very easily DIY'able! Even better would be to use old wine crates as the boxes.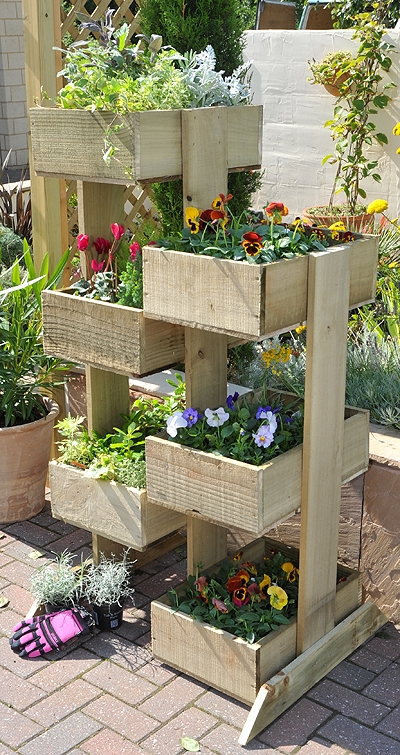 Gotta love these more modern patio paver planters by Stephanie Lynn we found on Apartment Therapy.  She has a step by step for you, (its easy!) and even some suggested plants!
I like these simple pallet planters, they would look amazing growing small vegetables! From Creative Homemaking.
These Criss Cross Outdoor Planters from Centsational Girl look fantastic. Love them painted white but could look really nice in a natural stained finish as well. See how she made these.
From Kate Was Here, Check out this cool DIY vertical planter.
Learn how to make a garden trough that looks old, but isn't! From This Old House.
From Ruffles and Truffles, this DIY vertical planter is really easy! Great for awkward corners of your garden. Good tutorial!
Image Credits: Popular Mechanics, Lowes, Family Handyman, Four Generations, Flickr, Instructables, Garden Site,Stephanie Lynn, Creative Homemaking, Centsational Girl, This Old House